For the art: Niall's blog propaganda poster recreated
Mostly lost in the
brouhaha
over Niall Kennedy's withdrawal of a blog posting, after concern about how it would reflect on his
employer
, is the subject of his original visual composition. It was a merging of blog-industry logos with a WW2-era education/propaganda poster.
Though Niall is no longer offering his composition, he does describe it in sufficient detail to understand. I think his combination of graphics from two different eras and spheres was clever and thought-provoking.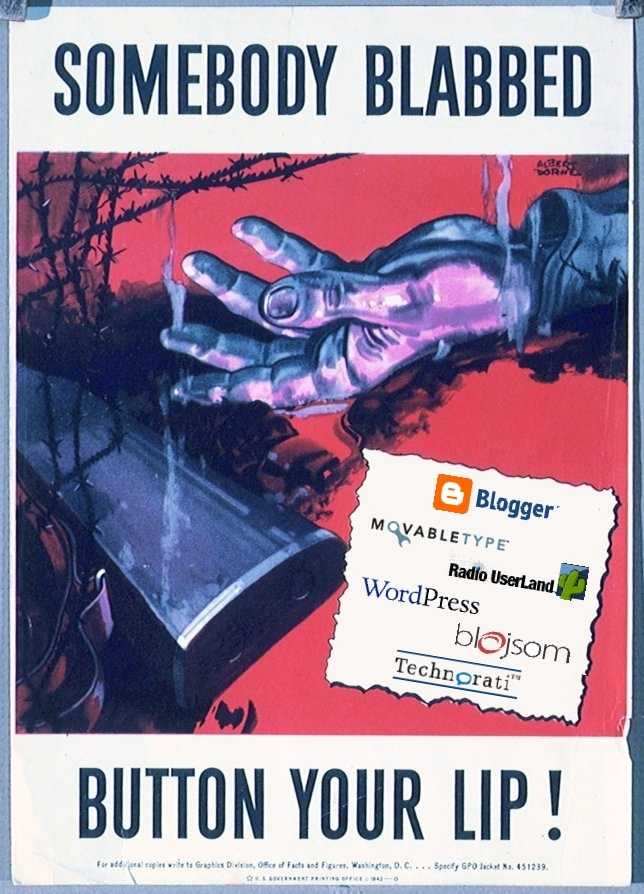 So that others may enjoy the important questions it raises, I've recreated Niall's poster, working from Niall's description, to the right. (Click for full-size image.)
I've also taken the artistic liberty of adding the Technorati logo to the roster of included corporate logos. After all, if your enemies -- be they wartime armies, corporate competitors, or just the easily-offended -- wind up using your blog posts against you, there's a good chance they'll use a tool like Technorati to get the goods.
Also submitted for your approval, another layer of commentary, below. (Click for full-size image.)
Further recursion is left as an exercise for the reader.
Technorati Tags: art, freespeech, irony, propaganda, blogging, technorati, censorship

«»